Watkins' Spiritual 100 List for 2014
100 List in 2014: #1-20 | #21-40 | #41-60 | #61-80| ##81-100
The 100 Most Spiritually Influential Living People in 2014
It's February again and that means it's time for Watkins' Spiritual 100 list. The Spring issue of Watkins Mind Body Spirit magazine has just come out in the UK and will soon be available worldwide (including Barnes and Noble and Whole Foods stores in the USA and Canada, Easons in Ireland, and WH Smiths in the UK). You can also get a copy of the current issue  or take out a subscription directly from Watkins Books.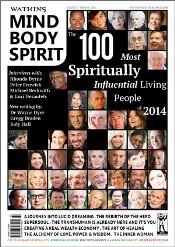 Watkins bookshop in London has been encouraging spiritual discovery and providing seekers with esoteric knowledge for over 120 years. In 2011 we started publishing the 100 list with the goal of celebrating the world's living spiritual teachers. As you read through this list, we hope that you are as inspired as we are by each individual's significant impact.
We've done our best to consider as many people as possible and our spiritual database includes the names of over six hundred candidates from which we selected this list of the top 100, highlighting the most proactive individuals – ranging from political and religious leaders to writers, filmmakers and artists.
There are several factors that are taken into account every year when compiling the list. The main three criteria are:
1) The person has to be alive as of January 1st, 2014
2) The person has to have made a unique and spiritual contribution on a global scale
3) The person is frequently googled, appears in Nielsen Data, and is actively talked about throughout the Internet. (By taking into account the amount of times that a person is googled or how many times their Wikipedia profile is viewed, the list gains a highly democratic parameter. In a sense, being googled is a form of digital voting, and illustrates just how often someone is being sought out).
Watkins' Mind Body Spirit magazine publishes the 100 Most Spiritually Influential Living People list on an annual basis and we welcome your suggestions in the comments below or at: editor(dot)watkins@gmail.com
Ultimately, this list is meant to celebrate the positive influence of contemporary spiritual teachers.
#1-20 on the 100 Most Spiritually Influential Living People of 2014
1 Dalai Lama
Born in Taktser, Tibet / 6 July 1935 (Cancer/Pig) / Spiritual Leader


Born Lhamo Dondrub, Tenzin Gyatso is the 14th Dalai Lama and the spiritual leader of the Tibetan people. Tibetan Buddhists believe him to be a reincarnation of his predecessors and the Buddha of compassion. He is a vocal activist for Tibetan independence and has made an incredible contribution to global spirituality. He was awarded the Templeton Prize in 2012 and donated most of the prize money to the Save the Children fund in India. On the first day of his tour of India in January 2014, His Holiness visited Bishop Cotton School in Bangalore to address the opening session of the 92nd Annual Association of Heads of Anglo-Indian Schools in India's Conference. The talk "Preparing Globally Responsible Citizens" is available to watch on his website and YouTube. His latest book The Wisdom of Compassion: Stories of Remarkable Encounters and Timeless Insights is now available in paperback. www.dalailama.com
2 Eckhart Tolle
Born in Lünen, Germany / 6 February 1948 (Aquarius/Rat) / Modern teacher and writer


Eckhart's profound yet simple teachings have helped countless people throughout the world find inner peace and greater fulfilment in their lives. At the core of the teachings lies the transformation of consciousness, a spiritual awakening that he sees as the next step in human evolution. His books, The Power of Now and the highly acclaimed follow-up A New Earth are two of the best-selling Mind, Body, Spirit books in the world. A film of his children's book Milton's Secret, written with Robert Friedman (publisher of Conversations with God) is now in pre-production with Peter Fonda confirmed to play 'Grandpa Howard'. The producers and director Barnet Bain (What Dreams May Come, The Celestine Prophecy) are hoping to keep the film true to the book by raising the finance through a co-creation campaign. To find out more about the film, the campaign and how to support it, go to miltonssecretmovie.com. www.eckharttolle.com
3 Pope Francis
Born in Buenos Aires, Argentina / 17 December 1936 (Sagittarius/Rat) / Current Pope


Born Jorge Mario Bergoglio, Pope Francis is the 266th Pope of the Catholic Church. He worked briefly as a chemical technician and nightclub bouncer before entering the seminary, and was ordained a priest in 1969. He became the Archbishop of Buenos Aires in 1998, and was created a Cardinal in 2001. Following the resignation of Pope Benedict in February 2013, Bergoglio was elected his successor in March 2013. Choosing the papal name Francis in honour of Saint Francis of Assisi, Bergoglio is the first Jesuit Pope, the first Pope from the Americas, and the first non-European Pope since Gregory III in 731. In less than a year he has almost tripled the size of crowds attending events in Vatican City and has stated that Catholics have concentrated excessively on condemning abortion, contraception, and homosexual acts, while neglecting the greater need for tenderness, mercy and compassion. His decision to include a Muslim woman when he washed the feet of young offenders last Easter and his instinctive hug for a man whose face was badly disfigured by disease are examples of his own compassion in action. www.news.va/en
"A culture of encounter demands that we be ready not only to give, but also to receive. […] The internet, in particular, offers immense possibilities for encounter and solidarity. This is something truly good, a gift from God." – Pope Francis
4 Thich Nhat Hanh
Born in Thua Thien, Vietnam / 11 October 1926 (Libra/Tiger) / Spiritual Leader


Thich Nhat Hanh is a Vietnamese Buddhist Zen Master, poet, scholar and peace activist. During the war in Vietnam, he worked tirelessly for reconciliation between North and South Vietnam and his courageous efforts moved Martin Luther King to nominate him for the Nobel Peace Prize in 1967. He founded the Order of Interbeing and the Unified Buddhist Church, along with monasteries and spiritual centres in Vietnam, the USA and France. He lives in Plum Village, his meditation centre in France, and travels widely, leading retreats on the art of mindful living. His latest book The Art of Communicating was published last August. www.plumvillage.org
5 Rhonda Byrne
Born in Australia / 12 March 1951 (Pisces/Rabbit) / Writer and TV/Film producer


Well known for The Secret book and DVD, Byrne advocates the belief that we can all transcend our suffering by not falling prey to negative thoughts. She has been listed among Time Magazine's list of 100 people who shape the world, and has also produced television shows. Her latest book Hero, was published in December (see the interview with Rhonda on pages 22 and 23, Watkins MBS issue #37). thesecret.tv
6 Deepak Chopra
Born in New Delhi, India / 22 October 1946 (Libra/Dog) / Physician, writer and public speaker


As a writer on Ayurveda, mind-body medicine and spirituality, Chopra has had huge success with titles such as Ageless Body, Timeless Mind and The Seven Spiritual Laws of Success. His latest books are What Are You Hungry For?: The Chopra Solution to Permanent Weight Loss, Well-Being and Lightness of Soul (see page 81 Watkins MBS #37), Self Power: Spiritual Solutions to Life's Greatest Challenges, and Super Brain: Unleashing the Explosive Power of Your Mind, co-written with neurologist Rudolph E. Tanzi. www.deepkchopra.com
7 Oprah Winfrey
Born in Kosciusko, Mississippi, USA / 29 January1954 (Aquarius/Snake) / Talk Show Host, actress, producer and philanthropist


Oprah might just be the most influential person in the world. She has discovered and advocated many spiritually influential thinkers — from Obama to Eckhart Tolle. Her multi-award-winning talk show became the highest-rated program of its kind in history. In 2013, she was awarded the Presidential Medal of Freedom by President Obama and an honorary doctorate degree from Harvard. She is also up for numerous awards for her role as Gloria Gaines in the film The Butler, including a BAFTA for Best Supporting Actress. www.oprah.com
8 Dr.Wayne W Dyer
Born in Detroit, Michigan, USA / 10 May 1940 (Taurus/Dragon) / Author and Speaker


Affectionately called the "father of motivation" by his fans, Dyer is one of the most widely known and respected people in the field of self-empowerment. His childhood was spent in orphanages and foster homes, and he has overcome many obstacles to make his dreams come true. Today he spends much of his time showing others how to do the same. His first memoir I Can See Clearly Now has just been published (see his article on pages 26-28, Watkins MBS #37). www.drwaynedyer.com
"I would not worship a God who is homophobic and that is how deeply I feel about this. I am as passionate about this campaign as I ever was about apartheid. For me, it's at the same level." – Desmond Tutu
9 Desmond Tutu
Born in Klerksdorp, Western Transvaal, South Africa / 7 October 1931 (Libra/Goat) / Cleric and Activist


Now retired, Tutu was the first black South African Anglican Archbishop of Cape Town. He received the Nobel Peace Prize in 1984 and has campaigned to fight AIDS, tuberculosis, homophobia, transphobia, poverty and racism. In July 2013, he stated that he would rather go to hell than a homophobic heaven: "I would refuse to go to a homophobic heaven. No, I would say sorry, I mean I would much rather go to the other place. I would not worship a God who is homophobic and that is how deeply I feel about this. I am as passionate about this campaign as I ever was about apartheid. For me, it is at the same level." www.tutu.org
10 Paulo Coelho
Born in Rio de Janeiro, Brazil / 24 August 1947 (Virgo/Pig) / Novelist


The Alchemist is one of the top selling books in history, with over 65 million copies sold in 150 countries. Coelho has sold more than 150 million books in over 150 countries worldwide, and his works have been translated into 71 languages. His latest book Manuscript Found in Accra has just been published in paperback. paulocoelho.com
11 Byron Katie
Born in Breckenridge, Texas, USA / 6 December 1942 (Sagittarius/Horse) / Author and Speaker


Katie refers to her method of self-inquiry as 'The Work' and promotes the idea that we can liberate ourselves from suffering by not believing/listening to negative thoughts. Katie exemplifies her methods as she has overcome paranoia, suicidal thoughts and severe depression. In addition to her bestselling books, she teaches her methods at free public events, in prisons, hospitals, churches, corporations, shelters for survivors of domestic violence, universities and schools. Her new book A Friendly Universe: Sayings to Inspire and Challenge You was published in December. www.thework.com
12 Sri Sri Ravi Shankar
Born in Papanasam, Tamil Nadu, India / 13 May 1956 (Taurus/Monkey) / Spiritual Leader


Sri Sri is a humanitarian leader, spiritual teacher and an ambassador of peace. His vision of a stress-free, violence-free society has united millions of people the world over through service projects and the courses of The Art of Living Foundation, which he founded in 1981. In March 2013, Shankar's foundation launched a movement called NONVIO with the aim of eliminating violence. The movement encourages individuals to pledge one act of non-violence through different social and online media and adopt nonviolent principles in government, public health, and media. srisriravishankar.org
13 Richard Bach
Born in Oak Park, Illinois, USA / 23 June 1936 (Cancer/Rat) / Writer and Aviator


Bach is the author of Jonathan Livingston Seagull and Illusions: The Adventures of a Reluctant Messiah, which have been continual best-sellers since the 1970s. An avid aviator since the age of 17, Bach was badly injured in August 2012 when his aircraft clipped power lines and crashed. His latest book Travels with Puff: A Gentle Game of Life and Death (see page 57, Watkins MBS #37), about crossing the United States in an aircraft nicknamed "Puff", was handed in to his publisher the day before the accident. richardbach.com
14 Alejandro Jodorowsky
Born in Tocopilla, Chile / 17 February 1929 (Aquarius/Snake) / Filmmaker and Author


Jodorowsky's contributions transcend any particular medium and range from philosophy and film to comic books. He is best known for his films, which blend mysticism and surreal images (El Topo, Santa Sangre, etc.). He developed his own spiritual system of psychoshamanism" and has written prolifically on the occult. He is an expert on Tarot and has researched and reconstructed the original form of the Tarot de Marseille. 2013 saw the release of his film The Dance of Reality (La Danza de la Realidad), a magic-realist memoir of his childhood in Chile. www.clubcultura.com
15 Alex Grey
Born in Columbus, Ohio, USA / 29 November 1953 (Sagittarius/Snake) / Artist


Grey specializes in spiritual and psychedelic art, which is often associated with the New Age Movement. His work is described as a blend of post-modern art, the sacred and visionary art and has graced numerous album covers including those of Nirvana, TOOL, and the Beastie Boys. With his wife Allyson he founded CoSM, The Chapel of Sacred Mirrors (www.cosm.org), a non-profit church supporting visionary culture in Wappinger, New York. www.alexgrey.com
16 Doreen Virtue
Born in California, USA / 29 April 1958 (Taurus/Dog) / Author and Angel Expert


Virtue is a best selling author and clairvoyant focusing on the angelic realm. She is the author of Healing with the Angels, How to Hear Your Angels, Messages from Your Angels, Archangels & Ascended Masters, and Angel Tarot Cards. Her latest book Angel Detox: Taking Your Life to a Higher Level Through Releasing Emotional, Physical and Energetic Toxins came out in January (see page 80, Watkins MBS #37). www.angeltherapy.com
17 Gregg Braden
Born 1954 / Author


Braden began his career working with computers for companies such as Cisco; however, for the last two decades he has attempted to bridge spirituality and science. His books include: The Isaiah Effect, The God Code, The Divine Matrix, and Deep Truth. His latest book The Turning Point: Creating Resilience in a Time of Extremes came out in January (see his article on pages 34 and 35, Watkins MBS #37). www.greggbraden.com
18 Neale Donald Walsch
Born in Milwaukee, Wisconsin, USA / 10 September 1943 (Virgo/Goat) / Writer


Walsch's Conversations with God series has sold over 450, 000 copies worldwide. His latest book What God Said: The 25 core messages of the conversations with God that will change your life and the world was published in October 2013. A new edition of his book ReCreating Your Self: Making the Changes that Set You Free is featured on page 80 of Watkins MBS #37. www.nealedonaldwalsch.com
19 Ram Dass
Born in Newton, Massachusetts, USA / 6 April 1931 (Aries/Goat) / Spiritual Teacher and Author


Born Richard Alpert and known for his associations with Timothy Leary at Harvard University in the early 1960s, Ram Dass acquired his name from his guru Neem Karoli Baba. In 1971 he published Be Here Now, his seminal book on spirituality, yoga and meditation. His latest book Polishing the Mirror: How to Live from Your Spiritual Heart was published in September and and a new fully revised edition of Grist for the Mill: Awakening to Oneness has just been released. www.ramdass.org
20 Louise L. Hay
Born in Los Angeles, California, USA / 8 October 1926 (Libra/Tiger) / Author, Speaker and Publisher


Louise Hay is a motivational author and the founder of Hay House. Her best known work is You Can Heal Your Life. In 2014, she teamed up with David Kessler to produce their book You Can Heal Your Heart: Finding Hope and Light After Loss (see page 57, Watkins MBS #37). www.louisehay.com
*
100 List in 2014: #1-20 | #21-40 | #41-60 | #61-80 | #81-100
We will post all of the details of the next 20 on each Tuesday. Check back soon.
*
Here's a brief summary of the full 100 list:
| | | |
| --- | --- | --- |
| 1. Dalai Lama | 35. Peter Russell | 68. John Bradshaw |
| 2. Eckhart Tolle | 36. Z'ev ben Shimon Halevi | 69. Liz Greene |
| 3. Pope Francis | 37. Starhawk | 70. Michael Newton |
| 4. Thich Nhat Hanh | 38. Andrew Weil | 71. Don Miguel Ruiz |
| 5. Rhonda Byrne | 39. James Redfi eld | 72. Daisaku Ikeda |
| 6. Deepak Chopra | 40. Iyanla Vanzant | 73. Rupert Spira |
| 7. Oprah Winfrey | 41. Robin Sharma | 74. Richard Bandler |
| 8. Dr Wayne W Dyer | 42. Jack Canfield | 75. Gary Snyder |
| 9. Desmond Tutu | 43. Lisa Williams | 76. Lars Muhl |
| 10. Paulo Coelho | 44. Mooji | 77. David Deida |
| 11. Byron Katie | 45. Diana Cooper | 78. Satish Kumar |
| 12. Sri Sri Ravi Shankar | 46. Lynne McTaggart | 79. Larry Harvey |
| 13. Richard Bach | 47. Drunvalo Melchizedek | 80. Russell Brand |
| 14. Alejandro Jodorowsky | 48. Seyyed Hossein Nasr | 81. Bernie S. Siegel |
| 15. Alex Grey | 49. Dan Millman | 82. Michael Beckwith |
| 16. Doreen Virtue | 50. Adyashanti | 83. Prem Rawat |
| 17. Gregg Braden | 51. Richard Rohr | 84. Colette Baron-Reid |
| 18. Neale Donald Walsch | 52. Erich von Däniken | 85. Thomas Moore |
| 19. Ram Dass | 53. Caroline Myss | 86. Lorna Byrne |
| 20. Louise L. Hay | 54. John Gray | 87. Clarissa Pinkola Estés |
| 21. Amma | 55. Jack Kornfi eld | 88. David J. Wolpe |
| 22. Alice Walker | 56. Masaru Emoto | 89. Anita Moorjani |
| 23. Esther Hicks | 57. Dolores Cannon | 90. Larry Dossey |
| 24. Francis Chan | 58. Daniel Gilbert | 91. David Steindl-Rast |
| 25. Brian Weiss | 59. Jeff Foster | 92. John C. Parkin |
| 26. Matthew Fox | 60. Bob Proctor | 93. Jon Kabat-Zinn |
| 27. Elizabeth Gilbert | 61. Pema Chödrön | 94. Sharon Kleinbaum |
| 28. Vadim Zeland | 62. Bruce Lipton | 95. Marshall Rosenberg |
| 29. Marianne Williamson | 63. Julia Cameron | 96. Huston Smith |
| 30. Graham Hancock | 64. Judy Hall | 97. Stanislav Grof |
| 31. Steve Taylor | 65. Rupert Sheldrake | 98. Kathy Jones |
| 32. Mantak Chia | 66. Vladimir Megre | 99. B. K. S. Iyengar |
| 33. Karen Armstrong | 67. Krishna Das | 100. Sonia Choquette |
| 34. Ken Wilber | | |
100 List in 2014: #1-20 | #21-40 | #41-60 | #61-80 | ##81-100
100 list, issue 37, modern teachers, Spiritual 100, Spiritual Power list, spiritual teachers, Watkins 100