# 81-100 on the Spiritual 100 List in 2015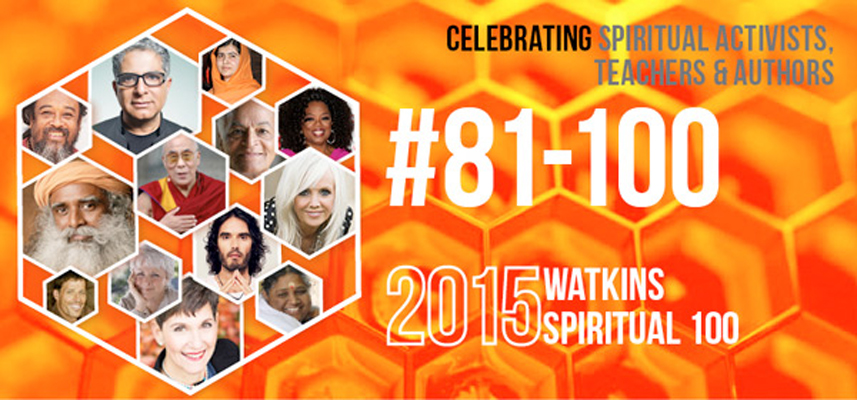 100 List in 2015: #1-20 | #21-40 |  #41-60 | #61-80 | #81-100
# 81-100 on the 100 Most Spiritually Influential Living People List in 2015
81 Judy Hall
Born in Bloxwich, Staffordshire, England 25 November 1943 (Sagittarius/Goat)/ Author and Crystal Expert
An internationally known author, astrologer, psychic, and healer, Hall specializes in past life readings and regression. She is best-known for The Crystal Bible which has sold over a million copies. Her latest books are Earth Blessings: Using Crystals for Personal Energy Clearing, Earth Healing & Environmental Enhancement and Crystal Prescriptions volume 3: Crystal solutions to electromagnetic pollution and geopathic stress – see Judy's article on page 52.(www.judyhall.co.uk)
82 Lynne McTaggart


Born in New York, USA 23 January 1951 (Aquarius/Tiger)/Author and Journalist
Lynne is a best-selling author, researcher and lecturer whose work has rightly been described as "a bridge between science and spirituality". For the past 20 years she has been researching medicine and its shortcomings, and quantum physics and what this means for us and the world we live in. She edits the monthly health journal What Doctors Don't Tell You and her books include The Field, The Intention Experiment, and The Bond. (www.lynnemctaggart.com and www.wddty.com)
83 Seyyed Hossein Nasr
Born in Tehran 7 April 1933 (Aries/Rooster)/ Islamic Writer and Academic
Nasr is currently Professor of Islamic Studies at the George Washington University, Washington D.C., and is one of the most important and foremost scholars of Islamic, Religious and Comparative Studies vin the world today. He is the author of over fifty books, including The Heart of Islam and The Garden of Truth. His book Mecca the Blessed, Medina the Radiant: The Holiest Cities of Islam was republished in December 2013. (www.nasrfoundation.org)
84 Claudio Naranjo
Born in Valparaiso, Chile 24 November 1932 (Sagittarius/Monkey)/ Psychiatrist and Author
Naranjo is considered one of the pioneers of the Human Potential Movement, and his introduction of "Fourth Way" ideas to psychotherapy is an instance of his work as an integrator at the interface between psychotherapy and the spiritual traditions. He is one of the three successors named by Fritz Perls (founder of Gestalt Therapy), and a developer of the Enneagram of Personality and founder of the Seekers After Truth Institute. (www.claudionaranjo.net)
85 Mark Epstein
Born in Anchorage, Alaska, USA 17 July 1953 (Cancer/Snake)/Psychiatrist and Author
Epstein is a psychiatrist in private practice in New York City and the author of a number of books about the interface of Buddhism and psychotherapy, including Thoughts without a Thinker, Going to Pieces without Falling Apart and Psychotherapy without the Self. He received his undergraduate and medical degrees from Harvard University. His latest book, The Trauma of Everyday Life, was published in paperback in July. (markepsteinmd.com)
86 Thomas Keating
Born in New York City, New York, USA 7 March 1923 (Pisces/Pig) Monk, Priest and Author
A founding member and the spiritual guide of Contemplative Outreach, Father Keating is a Trappist monk and one of the principal architects and teachers of the Christian contemplative prayer movement. He is the author of many books, including Open Mind, Open Heart; Fruits and Gifts of the Spirit; Manifesting God; and Invitation to Love. His latest book Reflections on the Unknowable was published in April 2014. He lives at St. Benedict's Monastery, Snowmass, Colorado. (www.snowmass.org and www. contemplativeoutreach.org)
87Anita Moorjani


Born in Singapore / 16 March 1959 (Pisces/Pig) / Author and Cancer Survivor
Moorjani was diagnosed with terminal cancer and doctors told her family she was just hours from death. At this point she 'crossed over' and then returned again with a clearer understanding of her life and purpose on earth. Her near-death experience changed her perspective on life and her work is now ingrained with the insights she gained while in the other realm. The full story is told in her bestseller Dying to Be Me: My Journey from Cancer, to Near Death, to True Healing. (www.anitamoorjani.com)
88 Daniel Pinchbeck


Born in New York, USA / 15 June1966 (Gemini/Horse) / Author and Journalist
Pinchbeck is the author of Breaking Open the Head: A Psychedelic Journey into the Heart of Contemporary Shamanism, 2012: The Year of the Mayan Prophecy, and Exploring the Edge Realms of Consciousness: Liminal Zones, Psychic Science, and the Hidden Dimensions of the Mind (with Ken Jordan). He is a co-founder of Evolver, a lifestyle community platform that publishes Reality Sandwich, an online magazine centred on spirituality, philosophy and activism. (realitysandwich.com)
89 Rob Bell
Born in Michigan, USA / 23 August 1970 (Virgo/Dog) / Author and Pastor
Bell was the founder of Mars Hill Bible Church in Grandville, Michigan, which he pastored until 2012. Under his leadership Mars Hill was one of the fastestgrowing churches in America. He is also the author of the New York Times bestseller Love Wins and the writer and narrator of a series of spiritual short films called NOOMA. In 2011 Time Magazine named Bell on its list of the 100 Most Influential People in the World. In September 2013 he was interviewed by Oprah for her Super Soul Sunday television show. His book, What We Talk About When We Talk About God, was also listed as the first recommended book that month in Oprah's "Book of the Month" club. His latest book The Zimzum of Love: A New Way to Understand Marriage was co-written with his wife Kristen and published in November.(www.robbell.com)
90  Vladimir Megre
Born in Kuznichi, Chernigov, Ukraine 23 July 1950 (Leo/Tiger) Author
Based on his meetings with Anastasia, a young woman living in the forests of Russia, Megre wrote the Ringing Cedars series of books which have sold over 10 million copies. Anasta, Book 10 of the Ringing Cedars series, has been translated into English, but is currently only available as a Kindle eBook.
(www.vmegre.com/en)
91  Jonathan Goldman


Born in USA 7 December 1949 (Sagittarius/Ox)/ Writer, Musician and Teacher
Goldman is an international authority on sound healing and a pioneer in the field of harmonics. He is the author of Healing Sounds, The 7 Secrets of Sound Healing, Chakra Frequencies (co-authored with his wife Andi), and his latest The Divine Name, winner of the 2011 Visionary Award for "Best Alternative Health Book". Dr. Wayne Dyer said of his CD The Divine Name: I Am, "It's like meditating while being cradled in the arms of God." Goldman is also one of the organizers of World Sound Healing Day every February 14th. (www.healingsounds.com and www.worldsoundhealingday.org)
92 Shakti Gawain


Born in Trenton, New Jersey, USA 30 September 1948 (Libra/Rat) Author and Teacher
A pioneer in the field of personal growth, Gawain is the author of the classic Creative Visualization. Her books have sold over 10 million copies and have been translated into more than 30 languages. She is the co-founder of New World Library who published The Relationship Handbook, her first new book in fifteen years, in December – see the interview with Shakti on page 26. (www.shaktigawain.com)
93 Larry Harvey
Born in Portland, Oregon, USA 11 January 1948 (Capricorn/Pig) Festival Founder and Organizer Harvey founded the Burning Man festival at a local beach in 1986, and has guided its progress ever since. He is currently executive director of the Project and co-chairs the organization's Art Department, scripts and co-curates the annual art theme, and collaborates with artists in creating aspects of the art theme and the design of Black Rock City. As spokesperson for Burning Man, he is frequently interviewed, and has lectured on subjects as diverse as art, religion, civic planning and the rise of cyber-culture in the era of the Internet. He wrote the Introduction for the 2014 book Burning Man: Art on Fire, an authorized collection of some of the most stunning examples of Burning Man art. (www.burningman.com)
94 Jamaliya Syed Khaleel Awn Moulana
Born in Weligama, Sri Lanka 20 December 1937 (Sagittarius/Ox)/ Sufi Master, Islamic scholar, Preacher and Writer
The 34th descendant of the prophet Muhammed, His Holiness is a Sufi Master, Islamic scholar, preacher and writer. He learnt Arabic and spirituality from his father and took over leadership of Tareeqatul Haqqiyyatul Qadiriya from him. The author of many Islamic and spiritual books, he strives to bring harmony among religions by uniting the minds of people, and explains that "Jihad is nothing but fighting against one's own soul (That is nafs (ego) – your real enemy), which is called Jihad-ul-akbar.The motive of Jihad is to promote peace and justice". He preaches the irfan-ultawheed to guide people on the path of spiritual wisdom. This spiritual movement is active in Tamil Nadu, Sri Lanka, Malaysia, Singapore, UAE, Kuwait, Qatar.
95  Peter Russell
Born in London, England 7 May 1946 (Taurus/Dog)/Author and Futurist
Russell gained an honours degree in physics and experimental psychology at the University of Cambridge and a postgraduate degree in computer science. He studied meditation and Eastern philosophy in India and on his return conducted research into the neurophysiology of meditation at the University of Bristol. His principal interest is the deeper, spiritual significance of the times we are passing through. His books include The TM Technique, The Global Brain, Waking Up in Time, and From Science to God. (www.peterrussell.com)
96  Robin Sharma


Born 1964/65 in Uganda Writer, Speaker and Leadership Expert
Sharma is a writer and speaker on leadership,peak performance and life management. His work has been published in over 60 countries and he has sold over 6 million books. He first shot to fame with The Monk Who Sold His Ferrari and is the author of 15 international bestselling books on leadership, including The Leader Who Had No Title. His latest book Family Wisdom from the Monk Who Sold His Ferrari was published in February 2014. (www.robinsharma.com)
97  Mario Reading
Born in Bournemouth, Hampshire, England 10 August 1953 (Leo/Snake) Author
Reading's non-fiction books have been published in 20 countries, and have sold more than 500,000 copies. They include The Watkins Dictionary of Dreams, Nostradamus: The Complete Prophecies for the Future, Nostradamus: The Good News, The Complete Prophecies Of Nostradamus, Nostradamus: The Top 100 Prophecies, and Nostradamus & The Third Antichrist. His novels include the bestselling Antichrist Trilogy (which has sold more than a million copies in 38 countries), and comprises The Nostradamus Prophecies, The Mayan Codex, and The Third Antichrist. His latest series of novels feature photojournalist John 'The Templar' Hart. The Templar Prophecy came out in 2014, and Hart's latest adventure, The Templar Inheritance, is due out in April 2015. Reading is also a member of Mensa and the ultra high IQ society, the ISPE (The International Society for Philosophical Enquiry). (www.marioreading.com)
98 Andrew Harvey


Born in Coimbatore, India 09/06/1952 (Gemini, Dragon)/ Author and Religious Scholar
Harvey was the subject of the BBC documentary "The Making of a Modern Mystic", which helped to make his book Hidden Journey a massive success. A scholar, author and poet, his focus since 2005 has been on "Sacred Activism". He is the founder and director of the Institute of Sacred Activism, which trains leaders and social justice advocates. His latest book Light the Flame: 365 Days of Prayer from Around the World came out in November 2013. (www.andrewharvey.net)
99 Eben Alexander


Born in Charlotte, North Carolina, USA 11 December 1953 (Sagittarius/Snake)
Neurosurgeon and Author Dr. Alexander, a renowned academic neurosurgeon, spent 54 years honing his scientific worldview. He thought he knew how the brain and mind worked. A transcendental Near-Death Experience (NDE), in which he was driven to the brink of death and spent a week deep in coma from an inexplicable brain infection, changed all of that. The result was Proof of Heaven: A Neurosurgeon's Journey into the Afterlife, in which he describes his 2008 near-death experience. As of September 2014, Proof of Heaven has been on the The New York Times Best Seller list for 97 weeks. Alexander's second book, The Map of Heaven: How Science, Religion, and Ordinary People Are Proving the Afterlife, was published in October 2014 – see the interview with Dr. Alexander on page 29. (www.ebenalexander.com)
100 Sharon Kleinbaum


Born in USA in 1959 Rabbi and Activist
Sharon Kleinbaum has been Senior Rabbi of what has become the world's largest gay and lesbian synagogue, Congregation
Beit Simchat Torah in New York,since 1992. A leading social justice activist, she was named one of the "50 most influential rabbis in America" for six years by Newsweek, as well as one of their "150 Women Who Shake the World". She was also named one of the "Top 10 Women Religious Leaders" by the Huffington Post.
100 List in 2015: #1-20 | #21-40 |  #41-60 | #61-80 | #81-100
issue 41, Spiritual 100, spiritual teachers, spirituality, Watkins 100