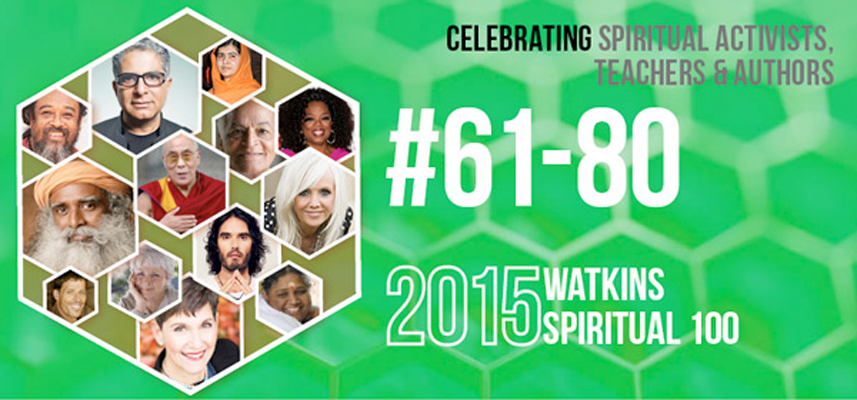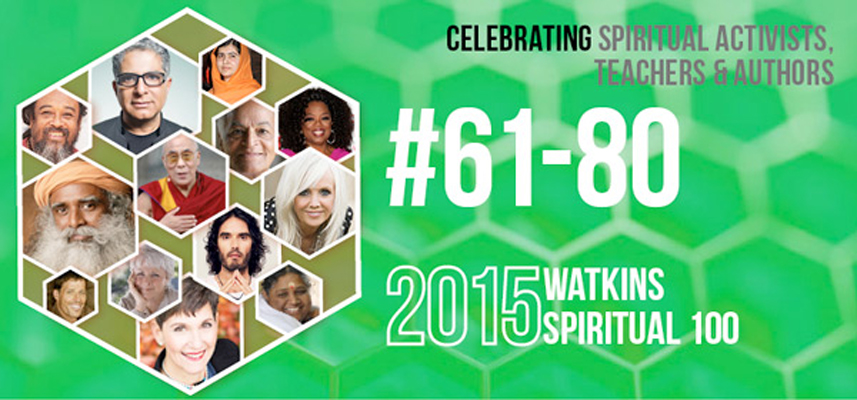 100 List in 2015: [badge style='3′]#1-20[/badge] | [badge style='3′]#21-40[/badge] |  [badge style='3′]#41-60[/badge] | [badge style='1′]#61-80[/badge] | [badge style='3′]#81-100[/badge]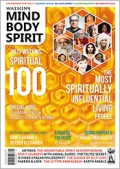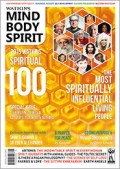 # 61-80 on the 100 Most Spiritually Influential Living People List in 2015
[dropcap]61[/dropcap]
Michael Bernard Beckwith
Born in USA / 21 July 1956 (Cancer/Monkey)/Author and New Thought Minister
Beckwith is the founder and spiritual director of the Agape International Spiritual Center, a transdenominational community in Los Angeles. He is the founder of the University of Transformational Studies and Leadership, and an international speaker and teacher of meditation, and has appeared on The Oprah Winfrey Show and Larry King Live. His latest book Life Visioning: A Transformative Process for Activating Your Unique Gifts and Highest Potential came out in paperback in June 2013. (
agapelive.com
) [dropcap]62 [/dropcap]
Steve Taylor
Born in Manchester, England / 30 April 1967 (Taurus/Goat) / Author and Lecturer
Steve Taylor PhD is a senior lecturer in psychology at Leeds Metropolitan University. He is the author of several best-selling books including
The Fall
,
Waking from Sleep 
and
Back to Sanity
. Eckhart Tolle has described his work as "an important contribution to the shift in consciousness happening at the moment on our planet" and is behind Steve's forthcoming May title The Calm Center: Reflections and Meditations for Spiritual Awakening (An Eckhart Tolle Edition). (
www.stevenmtaylor.com
) [dropcap]63[/dropcap] 
Tony Robbins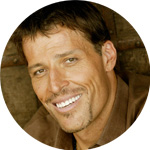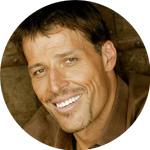 Born in North Hollywood, California, USA/29 February 1960 (Pisces/Rat)/Speaker, Author, Peak Performance Coach
Born Anthony J. Mahavorick and previously known as Anthony, Robbins is a speaker, author and peak performance coach. He became well known through his infomercials and self-help books Unlimited Power, Unleash the Power Within and Awaken the Giant Within. His latest book
Money: Master the Game – 7 Simple Steps to Financial Freedom
came out in November. (
www.tonyrobbins.com
) [dropcap]64 [/dropcap]
Huston Smith
Born in Suzhou, China/ 31 May 1919 (Gemini/Goat) /Author and Professor of Religion
Smith is a religious studies scholar and the holder of twelve honorary degrees. His books include The World's Religions which has sold over 2½ million copies and Why Religion Matters which won the Wilbur Award for the best book on religion published in 2001. Deepak Chopra said of the former "I have carried Huston Smith's The World's Relgions with me since my 14th birthday. I cannot express adequately the depth of my gratitude to Huston Smith for influencing the trajectory of my life." In September
Huston Smith: Wisdomkeeper: Living the World's Religions: The Authorized Biography of a 21st Century Spiritual Giant
by Dana Sawyer was published.(
www.hustonsmith.net
) [dropcap]65 [/dropcap]
Adyashanti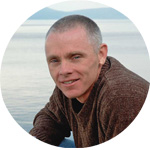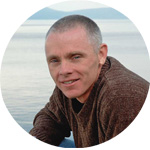 Born in Cupertino, California, USA/ 26 October 1962 (Scorpio/Tiger)/ Spiritual Teacher and Writer
Born Steven Gray, Adyashanti first started giving talks to small gatherings in a room above his aunt's garage. The talks grew and he changed his name to "Adyashanti," a Sanskrit term for "primordial peace." His talks focus on awakening and embodying awakening. In April 2014, he appeared in an interview with Oprah on an episode of Super Soul Sunday. His latest book Resurrecting Jesus: Embodying the Spirit of a Revolutionary Mystic was published in June 2014. (
www.adyashanti.org
) [dropcap]66 [/dropcap]
Jack Kornfield
Born in USA/16 July 1945 (Cancer/Rooster)/ Buddhist Teacher and Author
Kornfield is one of the leading Buddhist teachers in America. A practitioner for over 40 years, he is one of the key teachers to introduce mindfulness and vipassana meditation to the West. His books include A Path with Heart, After the Ecstasy, the Laundry, and Bringing Home the Dharma. The paperback edition of
A Lamp in the Darkness: Illuminating the Path through Difficult Times
came out in March 2014. (
www.jackkornfield.com
) [dropcap]67[/dropcap] 
Lee Carroll
Born in USA / 15 February 1944 (Aquarius/Monkey) / Channeller, Speaker and Author
Carroll is a channeller, speaker and author. He has authored thirteen books on channellings from an entity called "Kryon", the latest being The Recalibration of Humanity: 2013 and Beyond (Kryon Book 13). In 1995, he was asked to present Kryon at the United Nations in New York City before a U.N.-chartered group known as the Society for Enlightenment and Transformation (S.E.A.T.). The meeting was so well accepted that they were invited back six more times, the last being in 2009. Lee has also coauthored three books on "indigo children", a term they introduced to the world in 2000 for a new generation of children they say represents an evolution in human consciousness. (
www.kryon.com
 and
www.indigochild.com
) [dropcap]68[/dropcap] 
Marshall Rosenberg
Born in Canton, Ohio, USA / 6 October 1934 (Libra/Dog) / Psychologist and Author
Marshall Rosenberg is a psychologist and the creator of Nonviolent Communication, a process to help people exchange the necessary information to resolve conflicts
and differences peacefully. The founder and former Director of Educational Services for the Center for Nonviolent Communication, he is also the author of the bestselling Nonviolent Communication: A Language of Life and numerous other books. His latest title is
Living Nonviolent Communication: Practical Tools to Connect and Communicate Skillfully in Every Situation
. (
www.cnvc.org
) [dropcap]69 [/dropcap]
Richard Rohr
Born in Kansas, USA 20 March 1943 (Pisces/Goat)
Priest, Author and Inspirational Speaker Father Richard is a globally recognized ecumenical teacher bearing witness to the universal awakening within mystical and transformational traditions. A Franciscan priest and founder of the Center for Action and Contemplation (CAC) in Albuquerque, New Mexico, his teaching is grounded in practices of contemplation and lived kenosis (self-emptying), expressing itself in radical compassion, particularly for the socially marginalized. His latest book
Eager to Love: The Alternative Way of Francis of Assisi
was published in August 2014. (
cac.org
) [dropcap]70 [/dropcap]
Satish Kumar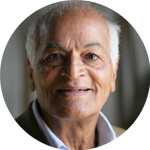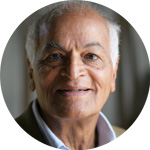 Born in Sri Dungargarh, Rajastan, India / 9 August 1936 (Leo/Rat) /Ecologist and Writer
A former Jain monk and long-term peace and environment activist, Kumar is currently editor of Resurgence & Ecologist magazine and the founder and Director of Programmes of the Schumacher College international centre for ecological studies. He is also on the advisory board of Our Future Planet, a unique online community sharing ideas for real change and in recognition of his commitment to animal welfare and compassionate living, he was recently elected vice-president with the RSPCA. His latest book
Soil Soul Society: A New Trinity for Our Time
was published in paperback in January. (
www.resurgence.org
) [dropcap]71[/dropcap] 
James van Praagh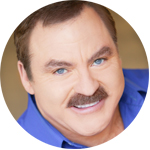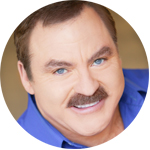 Born in Bayside, New York, USA/ 23 August 1958 (Virgo, Dog)/ Psychic Medium and Author
Van Praagh is a psychic medium whose paranormal experiences during the past twenty-five years have been recorded in his best-selling books Talking to Heaven, Reaching to Heaven, Ghosts Among Us, Heaven and Earth, and Unfinished Business. Van Praagh served as co-executive producer on the CBS show Ghost Whisperer starring Jennifer Love Hewitt. His latest titles
Adventures of the Soul : Journeys Through the Physical and Spiritual Dimensions
and
The Soul's Journey Lesson Cards
came out in September.(
www.vanpraagh.com
) [dropcap]72 [/dropcap]
David Steindl-Rast
Born in Vienna, Austria 12 July 1926 (Cancer/Tiger) Monk and Author
Brother David is a Benedictine monk known for his active participation in interfaith dialogue and his work on the interaction between spirituality and science. He co-founded both the Center for Spiritual Studies (with Jewish, Buddhist, Hindu and Sufi teachers) and A Network for Grateful Living, an organization dedicated to gratefulness as a transformative influence for individuals and society. His June 2013 TED Talk "Want to Be Happy? Be Grateful" has been watched online over four million times. His latest book 99 Blessings: An Invitation to Life was published in February 2013. (
www.gratefulness.org
) [dropcap]73 [/dropcap]
Gangaji
Born in El Paso, Texas, USA 11 June 1942 (Gemini, Horse) Spiritual Teacher and Author
Born Merle Antoinette Roberson, Gangaji shares a simple message: This is an invitation to shift your allegiance from the activities of your mind to the eternal presence of your being. In 1990, she met Sri H.W.L. Poonja, also known as Papaji, who opened the floodgates of self-recognition. Her books include: You are That!, The Diamond in Your Pocket and Hidden Treasure. A new edition of her book
Freedom and Resolve: Finding Your True Home in the Universe 
was published in November (see her article on page 62). (
www.gangaji.org
) [dropcap]74 [/dropcap]
David Deida
Born in Cleveland, Ohio, USA/ 18 March 1958 (Pisces/Dog)/ Author and Teacher
Acknowledged as one of the most insightful and provocative spiritual teachers of our time, Deida continues to revolutionize the way that men and women grow spiritually and sexually. His books include Finding God through Sex, Way of the Superior Man, Intimate Communion and The Enlightened Sex Manual. (
deida.info
) [dropcap]75 [/dropcap]
Erich von Däniken
Born in Zofingen, Switzerland 14 April 1935 (Aries/Pig) / Author
Von Daniken is best known for his controversial claims about extraterrestrial influences on early human culture. His first book, Chariots of the Gods, was an immediate best seller and his books have sold more than 62 million copies worldwide. His latest is
Remnants of the Gods: A Visual Tour of Alien Influence in Egypt, Spain, France, Turkey, and Italy.
(
www.daniken.com
) [dropcap]76 [/dropcap]
Malala Yousafzai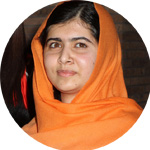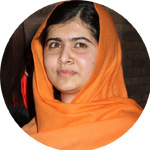 Born in Mingora, North-West Frontier Province, Pakistan / 12 July 1997 (Cancer/Ox) / Blogger and Activist
Malala is an activist for female education who was shot by the Taliban in October 2012 at the age of 15. In October 2014 she became the youngest person ever to be awarded the Nobel Peace Prize for her struggle against the suppression of children and young people and for the right of all children to education. Her human rights advocacy for education has now grown into an international movement. Her memoir
I Am Malala: The Girl Who Stood Up for Education and was Shot by the Taliban
, co-written with Christina Lamb, was published in paperback in October. A young readers version
Malala: The Girl Who Stood Up for Education and Changed the World
and a children's book 
Malala Yousafzai: Warrior with Words
also came out in 2014. [dropcap]77[/dropcap] 
Barbara Marx Hubbard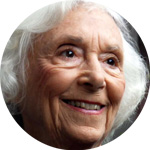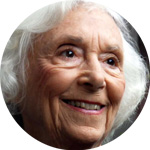 Born in USA 22 December 1929 (Capricorn/Snake)/ Futurist, Author and Speaker
A futurist, author and public speaker, Barbara is best known for the concept of 'Conscious Evolution'. She has written numerous books on social and planetary evolution and produced, hosted, and contributed to countless documentaries. In 2011, Neale Donald Walsch wrote a book about her:
The Mother of Invention: The Legacy of Barbara Marx Hubbard and the Future of YOU.
A revised edition of her book
Conscious Evolution: Awakening the Power of Our Social Potential
publishes in February 2015. (
barbaramarxhubbard.com
) [dropcap]78[/dropcap]
Jeff Foster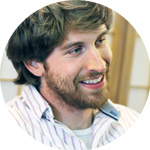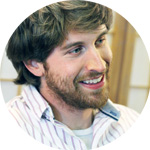 Born in London, England 30 July 1980 (Leo/Monkey)/ Author and Teacher
Foster is a young, gifted, spiritual teacher who articulates the timeless message of nonduality in a simple, human and down-to-earth way. His books include Life Without a Centre, The Wonder of Being and The Deepest Acceptance. His latest, Falling In Love with Where You Are: A Year of Prose and Poetry on Radically Opening Up to the Pain and Joy of Life, was published in November 2013. (
www.lifewithoutacentre.com
) [dropcap]79 [/dropcap]
Khwaja Shamsuddin Azeemi
Born in Saharanpur, Uttar Pradesh, India 17 October 1927 (Libra/Rabbit)/ Spiritual Leader and Author
Al-Shaikh Azeemi is the present head of the Azeemia Sufi Order (Silsila-e- Azeemia), with more than seventy Centres (Muraqba Halls) throughout the world, working under his patronage to promote and spread spiritual knowledge and to serve humanity. He is also the Chief Editor of Roohani Digest International and a scholar in the field of spiritualism. He has written over 60 books and 80 booklets, many of which have been translated into Arabic, Urdu, English, Russian and other languages. A staunch supporter of women's rights and sex-equality, his mission and his invitation to the whole of mankind is that they should learn the Inner Knowledge and realise their latent potential so that they may get to know the Lord Creator of the universe, and hence enjoy a blissful life both here and in the hereafter.(
www.azeemiasilsila.org
) [dropcap]80[/dropcap] 
Mother Meera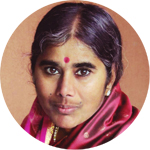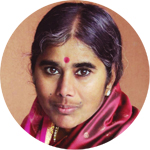 Born in Chandepalle, Andhra Pradesh, India/ 26 December 1960 (Capricorn/Rat) / Spiritual Leader
Believed by her devotees to be an embodiment of the Divine Mother, Mother Meera gives Darshan, her silent blessing in light and love by sight and touch to thousands of people. She lives in Germany but also travels throughout the world to give Darshan in other countries. She has founded a school in South India and spends much of her time over-seeing the activities of her Ashram in Madanapalle, A.P, India. (
www.mothermeera.com
)
100 List in 2015: [badge style='3′]#1-20[/badge] | [badge style='3′]#21-40[/badge] |  [badge style='3′]#41-60[/badge] | [badge style='1′]#61-80[/badge] | [badge style='3′]#81-100[/badge]