All talks are free and take place at Watkins bookshop, 19 Cecil Court, London WC2N 4EZ. You can catch up on all the recent Watkins talks by spiritual authors on our youtube channel.
Here's a list of upcoming talks. You can catch up with Videos if you missed any previous events. Check our blog for more information about the upcoming talks.
February 


Daniel Pinchbeck

  9-Feb-2017 Thur 6.30pm '

How Soon is Now?

'


Jez Hughs

   16-Feb-2017 Thur 6.30pm 'The Heart of Life'


Laura Lovehearts

  23-Feb-2017 Thur 6.30pm 'Moments'
March
Lawrence Shorter  2-Mar-2017 Thu, 6.30pm, '

The Lazy Guru's Guide to Life

'


Miguel Dean

       9-Mar-2017 Thu, 6.30pm, '

Stepping stones in the mist

'
Steve Taylor 16-Mar-2017 Thu, 6.30pm, '

Psychology of Spiritual Awakening

' 
Fiona Robertson 23-Mar-2017 Thu, 6.30pm '

Finding Yourself'

 April May
FEBRUARY 9, Thursday 6.30-7.30pm, Daniel Pinchback, 'How Soon Is Now?'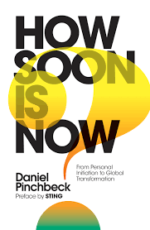 We are on the brink of an ecological mega-crisis threatening the future of life on earth and our actions over the next few years may well determine the destiny of our descendants. Drawing on a huge range of resources and references Daniel Pinchbeck presents a compelling argument for the need for change on a global basis – it is only when we see ourselves as one planetary tribe that this change can occur.  Covering everything from energy and agriculture, to culture, politics, media and ideology, Pinchbeck's book is ultimately about the nature of the human soul and the future of our current world. He calls for an intentional and consciously designed metamorphosis of our current systems, which transform capitalist and exclusive structures into participatory, democratic, and inclusive ones, based on an integration of Eastern metaphysics, social ecology, and radical political thought.

FEBRUARY 16, Thursday 6.30-7.30pm, Jez Hughs, 'The Heart of Life'
The ancient path of shamanism, the oldest spiritual healing practice across the world, has still much to teach us in the modern world. In this talk we will explore how this wisdom can assist us in these powerful times of transformation, when much healing is needed. We will focus on the gifts this earth based tradition brings, enabling us to honour and bring healing to ourselves, our ancestors and to the earth. With its focus on 'direct revelation' and grounded, experiential wisdom; we will explore how shamanism can teach us to get to the heart of what is happening to the world within the chaos and noise of modern existence: To know our place as humans within it, and the role we can play to bring about positive change.

February 23, Thursday 6.30-7.30pm, Laura Lovehearts, 'Moments'
This book of moments grew out of a determination to live in the present, a love of words, and a passion for sharing the fruits and findings of experience. Each of the sixty short pieces takes a unique – at times humorous and profound – look at various ordinary, or not so ordinary moments in time; nothing of the inner or outer world left unseen or unfelt. Lyrical prose captures the feeling and format in a painting of words: time taking a freeze frame in-depth experiential snapshot. It has been said that in reading or hearing these moments…something special happens.
MARCH 2, Thursday 6.30-7.30pm, Lawrence Shorter  –The Lazy Guru's Guide to Life
Laurence Shorter, author of The Lazy Guru's Guide to Life, will share the inspiring story of his journey to creativity and happiness. Offering practical examples and personal stories he will describe how he accesses the creative power of the universe by making space, doing less and letting go of 'shoulds'.

MARCH 9, Thursday 6.30-7.30pm, Muguel Dean – Stepping Stones in the Mist
Into the Light. In this talk Miguel beautifully weaves together his own inspirational story from homeless beggar to sacred activist, with that of humanity's unfolding story at this pivotal time in our evolution. Included in the weave are the threads of gratitude and beauty, befriending the darkness, heart vision and Love in action. His message is one of hope and empowerment and audiences always leave inspired, moved and equipped with new perspectives and ways to facilitate self transformation and contribute their gifts in service of the Great Shift which is unfolding on our planet.
MARCH 16, Thursday 6.30-7.30pm, Steve Taylor – Psychology of Spiritual Awakening
What does it mean to be spiritually awakened? What are the main aspects of spiritual awakening and how can we cultivate them? Spiritual psychologist Steve Taylor will discuss the main themes of his new book The Leap: The Psychology of Spiritual Awakening, just published as an Eckhart Tolle Edition (with a foreword by Eckhart). He will illustrate different aspects of awakening, highlighting the importance of acceptance and dissolving our psychological attachments. He will suggest that there is an evolutionary aspect to awakening, and that we have a responsibility to move towards awakening in order to safeguard the future of our planet.
Steve Taylor PhD is the author of several best-selling books on psychology and spirituality, including Waking From Sleep, The Calm Center and his new book The Leap. For the last four years he has been included in Watkins Mind, Body, Spirit magazine's list of the '100 most spiritually influential living people.
MARCH 23, Thursday 6.30-7.30pm, Fiona Robertson – Finding Yourself
Join Fiona Robertson, author of The Art of Finding Yourself: Live Bravely and Awaken to Your True Nature, to explore the art of deep self-inquiry. Fiona will share candidly about what happens when you have the courage to inquire into everything you've believed to be true about yourself, the world, and spirituality.
"…Deep spirituality can so easily become a way for people to avoid the psychological challenges of life, but The Art of Finding Yourself is a book that makes spirituality real, taking it right into our pain, where it can have its greatest effect."
—Tim Freke, author of Deep Awake