All talks are free and take place at Watkins bookshop, 19 Cecil Court, London WC2N 4EZ. You can catch up on all the recent Watkins talks by spiritual authors on our youtube channel.
December


Tim Freke

   1-Dec-2016 Thur 6.30pm '

Deep Awake

'
January 
Wendy Treynor 20-Jan-2017 Fri 6.00pm 'How to Break Free from the Herd'
February 


Rose Elliot

   2-Feb-2017 Thur 6.30pm '

Every Breath You Take

'


Daniel Pinchbeck

  9-Feb-2017 Thur 6.30pm '

How Soon is Now?

'


Jez Hughs

   16-Feb-2017 Thur 6.30pm 'The Heart of Life'


Laura Lovehearts

  23-Feb-2017 Thur 6.30pm 'Moments'

DECEMBER 1, Thursday 6.30-7.30pm, Tim Freke, 'Deep Awake'
Frustrated with outdated forms of spirituality that urge us to reject the thinking mind and attack the ego, Tim Freke invites us to think clearly and appreciate our humanity. Spirituality is not just about self-realisation, it is also about self-expression. In this talk Tim Freke will talk about his new book Deep Awake. With astonishing clarity and directness, Deep Awake explains why popular spiritual teachings that urge us to reject the mind, attack the ego and detach from the vicissitudes of life are misguided. Using the powerful tool of 'paralogical thinking', he reveals that everyone has both a 'deep I' and a 'personal self'.
JANUARY 20, Friday 6.00-7.00pm, Wendy Treynor, 'How to Break Free from the Herd'

Dr. Wendy Treynor is a speaker, author, coach, healer and teacher who weaves science and spirit into her work and programs.
Dr Treynor's work has been featured in Psychology Today, Success Magazine and on CBS-TV in the United States. She is a cancer survivor and thriver, and she has presented worldwide for over 10 years, most recently in the US at Google.
This talk will discuss: how to liberate yourself from the shackles of social conditioning; how to inoculate yourself against unwanted social influence; how cancer and adversity can become a gift for transformation and radical change; using scientific research to show the connection between science and spirit; a fresh approach for self-love to help overcome depression and oppression to live vibrantly.
February 2, Thursday 6.30-7.30pm, Rose Elliot, 'Every Breath You Take'

Rose Elliot was amazed when she discovered that originally mindfulness was completely linked to our breath. Following the Buddha's simple instructions, Rose began to practice, and found it benefited every area of her life, helping her through the most difficult time, her husband's rapid decline into dementia and subsequent death. Mindfulness breathing is now a constant part of Rose's life, as she has described in her new book, Every Breath You Take.  In this talk, Rose will describe her experiences with the monk; how to do mindfulness breathing, and how it can benefit you too. Rose says: 'We'll learn  and practice together, and there'll be time for questions too: do come along; this could change your life like it has mine. I hope to see you!'
FEBRUARY 9, Thursday 6.30-7.30pm, Daniel Pinchbeck, 'How Soon Is Now?'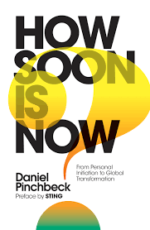 We are on the brink of an ecological mega-crisis threatening the future of life on earth and our actions over the next few years may well determine the destiny of our descendants. Drawing on a huge range of resources and references Daniel Pinchbeck presents a compelling argument for the need for change on a global basis – it is only when we see ourselves as one planetary tribe that this change can occur.  Covering everything from energy and agriculture, to culture, politics, media and ideology, Pinchbeck's book is ultimately about the nature of the human soul and the future of our current world. He calls for an intentional and consciously designed metamorphosis of our current systems, which transform capitalist and exclusive structures into participatory, democratic, and inclusive ones, based on an integration of Eastern metaphysics, social ecology, and radical political thought.

February 16, Thursday 6.30-7.30pm, Jez Hughs, 'The Heart of Life'
The ancient path of shamanism, the oldest spiritual healing practice across the world, has still much to teach us in the modern world. In this talk we will explore how this wisdom can assist us in these powerful times of transformation, when much healing is needed. We will focus on the gifts this earth based tradition brings, enabling us to honour and bring healing to ourselves, our ancestors and to the earth. With its focus on 'direct revelation' and grounded, experiential wisdom; we will explore how shamanism can teach us to get to the heart of what is happening to the world within the chaos and noise of modern existence: To know our place as humans within it, and the role we can play to bring about positive change.

February 23, Thursday 6.30-7.30pm, Laura Lovehearts, 'Moments'
This book of moments grew out of a determination to live in the present, a love of words, and a passion for sharing the fruits and findings of experience. Each of the sixty short pieces takes a unique – at times humorous and profound – look at various ordinary, or not so ordinary moments in time; nothing of the inner or outer world left unseen or unfelt. Lyrical prose captures the feeling and format in a painting of words: time taking a freeze frame in-depth experiential snapshot. It has been said that in reading or hearing these moments…something special happens.