This article first appeared in Watkins Mind Body Spirit, issue 48.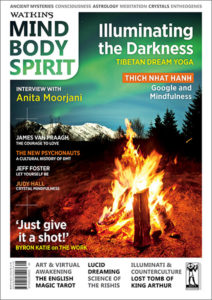 Beloved Festival
Tidewater, Oregon, USA
4 days in mid-August
BELOVED is a 4-day camping, art and music festival on the Oregon Coast. It intends to present sacred music to help eradicate the illusion of separation from each other, from the earth and from the Beloved. The term "The Beloved" embraces all of the names and forms of the Divine, affirming their Unity.
Beloved has become an American West-Coast favourite for years. It creates a harmonious experience of open air sacred art and music while lifting the community spirit to the next level.
On the web: http://belovedfestival.com/
Desert Hearts, San Diego County, California
Desert Hearts was manifested from sheer determination and an abundance of positive energy in 2012 as a 300 person renegade Mojave gathering. Since then, they have grown tremendously, refining their abilities to produce world-class house and techno gatherings.
On the web: http://www.deserthearts.us/
Earth-Beat Festival, Auckland New Zealand
Earth-Beat Harvest Festival is a conscious gathering that provides a platform for co-creation and community connection. Earth-Beat is full of transformational experiences that help us reconnect and tune to our innate ability to listen to the beat of the Earth. Harvest is a time for celebration in gratitude for the sweetness of the past summer, and to nourish ourselves in preparation for the winter.
On the web: www.earthbeatfestival.com
Boom Festival, Portugal
The Boom Festival is a biennial transformational festival in Portugal. The festival features music performances and a broad variety of visual art exhibits.
On the web: https://www.boomfestival.org/boom2016/home/
Fire in the Mountain Festival, Wales
Grass-roots, folk and wild festival nestled in the welsh countryside. Operating co-creatively with the wider community as a fully transparent, inclusive and not-for-profit organisation, Fire in the Mountain is the epitome of down to earth local collaboration.
On the web: http://www.fireinthemountain.co.uk/
Buddhafield Festival, Somerset UK
The Buddhafield Festival is a gathering of up to 3,000 beautiful people  — a joyful and unique creation of community. Ritual, song, dance, arts and crafts, yoga, t'ai chi, meditation, and play, blend together in a drink- and drug-free environment. The Festival is for people from all traditions — and none — coming together in a mindful and family-friendly space, allowing hearts and minds to open.
On the web: http://www.buddhafield.com/?festival=about
Burning Man Festival, Blackrock, Nevada USA
A city in the desert. A culture of possibility. A network of dreamers and doers. Burning Man is not a festival. It's a catalyst for creative culture in the world.
On the web: http://burningman.org/
Envision Festival, Costa Rica
As a celebration dedicated to awakening our human potential, Envision provides a platform for different cultures to co-exist in sustainable community, and inspire one another through art, spirituality, yoga, music, dance, performance, education, sustainability and our fundamental connection with nature.
On the web: http://www.envisionfestival.com/?home=2016#experience
Northern Nights Music Festival, California
Eclectic, progressive and merging music and mindful culture.  The Northen Nights Music Festival, offers a clean and wholesome space to experience high calibre music and dance. Situated in and amongst the mighty redwoods on the banks of a beautiful river. The environment amplifies the vibes and the love spread by all.
On the web: http://northernnights.org/
Midburn, Israel
Midburn is a mystical regional burn set in Israel's ancient desert, and it unfurled its temporary city across five days of 24-hour partying and self expression. The region's history-filled lands were also filled with otherworldly art made by burners exploring the theme of "Abracadabra."  In ancient Aramaic, Abracadabra means "I will create as I speak." Through generations, this expression has provided inspiration for stories and tales that made the magic word powerful and meaningful, so it…
On the web: http://midburn.org/en/
Feel Festival, Germany
Emotion in motion, Feel festival offers a diverse celebration of arts, beauty, music and community. A progressive multi-generational culture has established around this festival which is in its fourth year.
On the web: http://feel-festival.de/en/
Fusion Festival, Germany
Far from everyday life we celebrate 4 days of parallel society of a special kind, looking for a possibly better world. We know, there's always a "but". We also feel that there is no real place where all of this comes true.
On the web: http://www.fusion-festival.de/de/x/