June 7, 2012, at 6.30pm – John Matthews and Wil Kinghan – The Lost Tarot of Nostradamus – Launch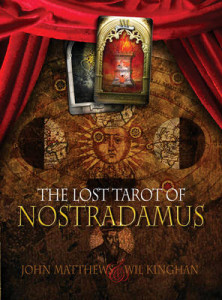 Michel de Nostredame, sixteenth-century French apothecary and seer, was the most famous visionary of them all. In 1994, in the Italian National Library in Rome, a manuscript believed to be by the man himself was discovered along with 80 mysterious paintings drawing heavily on the symbolism of the tarot. John Matthews and Wil Kinghan realized the implications of this work and, after much research, now bring it to fruition. For the first time, the astounding power of the prophecies is married to the predictive imagery of the tarot. Fresh translations from the original quatrains add another dimension to the readings making this, without question, the ultimate oracle from the primary prognosticator.  Come along on the 7th June to Watkins Bookshop at 6.30pm and hear all about this amazing discovery as well as getting your own signed copy.
June 20, 2012, at 6.00pm – Dr. Robert Forman – Enlightment Ain't What It's Cracked Up To Be
What if you spent years of your life seeking spiritual enlightenment, but were looking in the wrong place? Dr Robert Forman shows lucidly how traditional spiritual ideas are giving seekers a wrong and frustrating impression about spiritual enlightenment.  Enlightenment may not be what it's cracked up to be… but according to Dr. Forman, a complete life of spiritual well being can be yours! Told in often poetic prose, it offers new direction for people looking for a sane and healthy spiritual pathway in our increasingly confusing world.
Through metaphor, humor, vulnerability and achingly beautiful prose, Dr. Forman's book offers newfound hope to spiritual seekers everywhere. Join us on June 20th, meet the author and get your own signed copy.