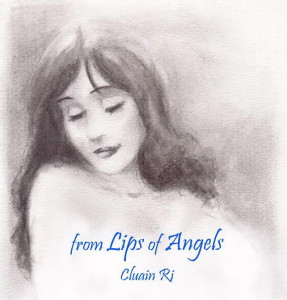 From Lips of Angels
fuses new age music with heavenly themes and instrumentation. The artist known as Cluain Ri is a sonic architect building churches of angelic sound, framed by sensual guitar, shimmering piano, soaring orchestration and echoes of familiar and unfamiliar sounds. The collection, beginning with the eloquent
From Lips of Angels
, comprises thirteen tracks; it travels to its close past the compelling Celtic anthem
Anam Cara, and leaves you with being touched by the Slieveland Angels. This music
will awaken, heal and inspire the heart, mind and spirit. If you are looking for sounds that are both captivating and calm – and a little out of this world – this haunting album is pure bliss.
The music is truly blissful and beautiful – Steve Taylor

This is divine music. Sounds like heaven – Anita Moorjani

The music is just lovely – James Van Praagh

The music is gorgeous.  I love the colours and the way the angels touch you.  Simply lovely – Diana Cooper
 

Heaven is in these notes. Feel your angel wings growing and lifting you up as you listen. Pure bliss – Theresa Cheung, Angel author
You can listen to Sibylline and Healing Hands from the album on our You tube Channel.
The full album is also available on the major download sites, iTunes, Spotify, Amazon and others.
From Lips of Angels Album
By Cluain Ri
13 tracks, 50 minutes
Label: Sibylline Media
Primary Genre: New Age