Nancy Canning is a certified hypno-therapist, teacher and trained clairvoyant who specializes in
releasing limiting belief systems, past life regression and life-between-lives spiritual regression. She is the author of Your Life's Calling:getting unstuck and fulfilling your life lessons. Join her talk at Watkins Bookshop on April 27 at 6.oopm. Visit our events page for more information.
Meet the Author is a series of short interviews prior the author's talks at Watkins Books.
Is there any event or encounter in your life that you consider a stepping stone in your spiritual journey?
Several pivotal events occurred in 1980-82. I was living in California and attended a workshop on belief systems, how our thinking affects and impacts our life. This was novel information to me. I had no idea that life didn't just happen to me or that I could change my life by changing my thinking. I was immediately drawn to do more workshops, have private sessions, and learn as much as I could about the subject. That workshop began my lifelong work with helping clients transform their limiting beliefs.   Two years later I spontaneously experienced a past life in which I absolutely knew I was a 10-year-old Japanese girl hiding in a ditch with my younger brother. That experience catapulted me into the world of past lives and then into an intensive eight-year study at a psychic institute. These three legs of the stool – belief systems, past lives, trusting my intuition – have been the foundation for my work these past 35 years.
Which books have influenced your life the most?
Journey of Souls by Dr. Michael Newton was one of the most transformational books for me because, as I read through it, I knew some of the information even though I had never read anything like it before. It's about the journey into the spirit world and what happens between lives. I knew intuitively that I could do the same work and all I needed was to have a session with him. Two years later I had a life between lives spiritual regression, went home and started doing the work. It came so naturally to me and brings me such a feeling of deep joy to help people experience their soul essence and understand their life purpose. I'm very grateful for his book that led me to my own work.
The Four Agreements by don Miguel Ruiz is a book I have recommended to many people to read. I especially encourage some clients to read the chapters on "don't take anything personally" and "don't make assumptions" as they are masterful and life changing if you can really put it into practice.
Your Soul's Plan by Robert Schwartz also resonated deeply with me because I love reading about why our lives are the way they are and why people choose such challenging lives. I thoroughly enjoyed his story about a blind man whose guides had to "re-plan" his life after he was accidently blinded at birth. It was fascinating to me. I know this book can open up a whole new perspective for seeing one's life for the reader.
Do you have a daily spiritual practice?
I begin and end most days by listening to meditation or spiritual teaching cds. I also write out my yearly vision many times during a week, thanking God in advance for all that occurs in my life. Much of my spiritual practice is fairly informal as I talk with God/Source throughout the day. The first thing I do in the morning when I wake up is to be grateful. "Thank you God" is the best way for me to start the day. I lie in bed quietly, looking out at the tress, listening to birds, and simply being. Then throughout the day I notice myself being grateful on a consistent basis. I also relax through breathing, stopping for a moment to become present, to notice my breath, to just stop. And I love the silence. I think there is sacredness in the silence. I work out of my home and have no music or tv on during the day.
What is your idea of happiness?
Happiness is when my heart, mind, spirit and activities are all in alignment. It occurs when I'm being or doing that which supports my values and passions. My two highest values are spiritual growth and connection with others. So when I'm engaged in these activities, such as facilitating someone to transform their life or just hanging out with close friends, I can experience deep happiness and a sense of rightness.
What empowers you in your daily work and life?
When I witness a client get unstuck from a limiting belief that has consumed them for most of their life, I get excited to the core of my being. There are those precious moments when I facilitate them as they're hanging on, still believing the false thinking…and then they let go. Everything changes in the blink of an eye. They experience a profound "aha" as they release the thought, energy and emotions that have caused them such trouble. I love being part of this transformational process.
Any advice to give to Watkins Magazine readers…
Trust your Self. Trust your Knowing. Trust that you do, indeed, have access to a higher knowing, to wisdom, to insights, and to clarity. Just because it's cloudy, it doesn't mean the sun isn't shining. Just because you may be confused or feeling lost, doesn't mean you don't have access to your inner and higher knowing. Trusting our Self is part of every person's spiritual journey. Sooner or later, we have to live from trusting our Self.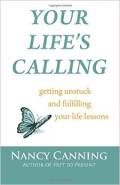 Nancy Canning
Your Life's Calling
£9.90, available from Watkins Books