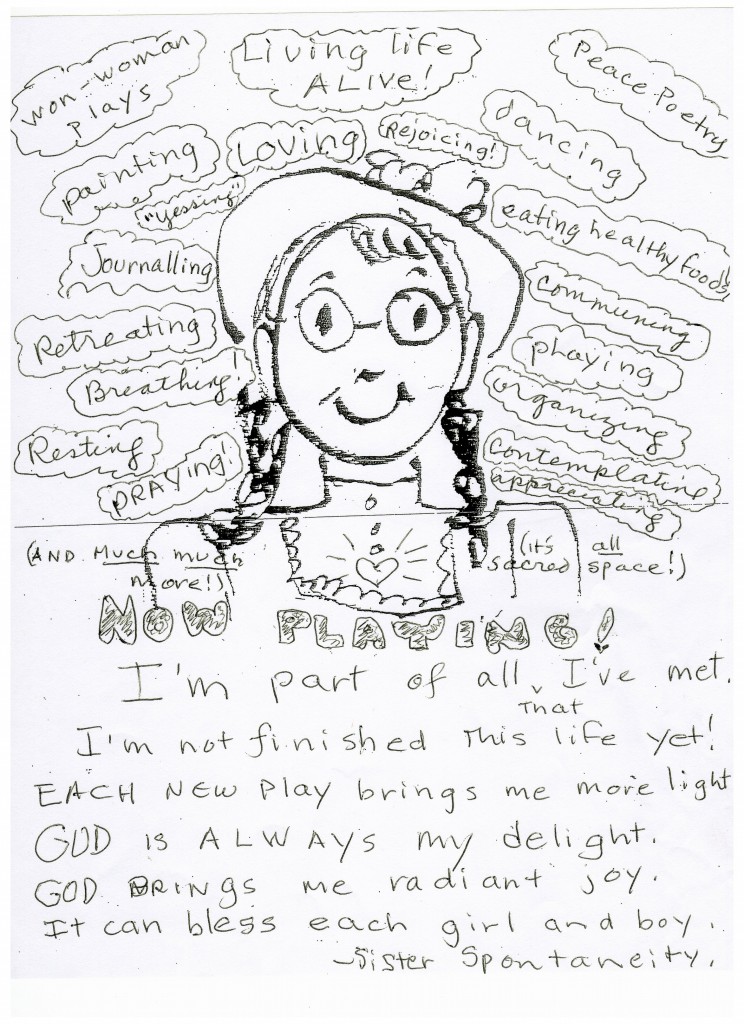 by Elisabeth Coca, aka Sister Spontaneity
In the morning, I pray, feeling grateful to have a 'spiritual awakening', celebrating all my fingers and toes, and the gift of good health. I dress using Col:314 (clothe yourself with love, which binds all together with perfect harmony). Then I walk my precious service dog Peace, and meditate on God's goodness and nearness. After that comes nutrition for Peace and myself.I eat a very healthy mostly organic delicious, beautiful breakfast, shaped in hearts! Then I go to my nearby park and walk Peace and meditate some more before going to Mass and Holy Communion. Usually following that, I take care of practical stuff like grocery shopping, banking, Copy Spot, the gym, etc. That's how my body, mind and spirit start the day.
I am involved in anonymous programs and keep current with necessary tasks. I go to doctors, as needed, avoiding as much as possible any medications! At 83, I am on no permenant medications. (I do take vitamin supplements daily.) I love being enthusiastic. My brother says 'I was born enthusiastic'.
I was a Catholic nun from age 19 to 37 as 'Sister Gerard'. Now, after being married and having adopted our son, who is now 40, becoming a widow and a grandmother of a 4 year old girl, I have named myself Sister Spontaneity: I have needed a much bigger convent – world sized! Now I see myself as everyone's sister!
What do I do that is really fun and exciting to me? Each day I compose about a dozen 'Peace Poems', especially for people I don't even know. I meet them in the park or in the grocery store, sometimes at church, etc. Here is a sample of one of my Peace Poems:
Embraced by God
Transcending difficulties
Angels assist you
Noble
I consider whatever is true in me is also true in any other soul, at least potentially! I believe that we are all created equal, and are each precious to our Maker… and our Maker(who also made the stars and all the universe) knows what's best for us and helps us FIND our Maker within.
I write volumes of poetry on that, and here's a sample from my Find Me Poetry book.
FIND ME BLESS OUR BIG ONENESS
FIND ME BLESS AND BLESS AND BLESS
(That one I entered just today. It's an ongoing work in progress.)
Now for another JOY GIVING EXPERIENCE. I create Won Woman Plays! These I do monthly as 'Performance Art'. (Each one is different, of course.) One play was Beyond Shakespeare and the current one is Beyond Entertainment. The next one will be Beyond Education. Each one is free with donations excepted for the wonderful transformational work of Father Gregory Boyle who created Homeboy industries in the L.A. Ghetto. Recently I performed with six other seniors in the Santa Monica Edgemar Theatre in a show called Defining Moments.
For the past 63 years I have taught about 60,000 students, always including art,poetry and theatre in my teaching. Now I do plays that embrace "all of the above" and much more…
My friend tells me that she sees my life expanding as I am growing older.