Book Signings and Author Talks at Watkins
No need to book, just turn up! All talks are free and take place at Watkins bookshop, 19 Cecil Court, London WC2N 4EZ.
Summary:
Becky Walsh    14-Jun-2013  630pm   You Do Know
Colin Stanley  18-Jul-2013  630pm   Colin Wilson's 'Occult Trilogy': A Guide for Students
JUNE 14, 6.30pm-7.30pm Becky Walsh – You DO Know: Learning to Act on Intuition Instantly

In the past few years there has been an increase in the use of the word intuitive. This increase has been a direct result of the way we describe the intelligent functionality of technology, such as a smart phone or an application. In addition many business people, such as Apple creator Steve Jobs and Virgin tycoon Richard Branson, have credited their success to 'ideas through intuition'. Intuition is no longer seen as something wooly but as a valuable life skill. We have also seen a rise in the popularity of books that talk of 'silencing the mind', revealing the importance of being without ego. "You Do Know" blends these two subjects together by explaining how to make decisions without ego, therefore making decisions without fear.
Many people don't know how to trust their intuition. In "You Do Know", Becky Walsh explains that this is because until now people thought there was only one kind of intuition. Becky has made a revolutionary discovery: that there are two forms of intuition. One form works through ego and the other though love. To back up this realisation she has turned to neuroscience, psychology and spiritual teaching to draw all the pieces together. She explains to the reader in simple, practical terms how to use both forms of intuition. In addition, Becky explains how interactions without ego-judgement affect us positively in friendship, business, relationships, family and community. This shift will change our world dramatically from both a personal and global perspective, as we realise that intuition is the key to the shift in consciousness that humanity needs to fix the problems we currently face.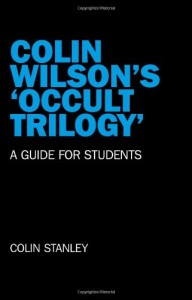 JULY 18, 6.30pm-7.30pm Colin Stanley – Colin Wilson's Occult Trilogy: A Guide For Students
The 'Occult Trilogy' is the collective label applied to Colin Wilson's three major works on the occult: The Occult (1971); Mysteries: an Investigation into the Occult, the Paranormal and the Supernatural (1978) and Beyond the Occult (1988). They amounted to a monumental 1600 pages and have spawned many other lesser works.
"Colin Stanley's thorough and fascinating overview gives the reader a firm grounding in this enormously important subject, and lays a solid foundation for its future development." – Gary Lachman, author of: The Secret History of Consciousnes, Jung the Mystic, Turn Off Your Mind and Madame Blavatsky
"Insightful and engaging, this is an essential guide for any serious student of Colin Wilson's books." ~ Steve Taylor, author of 'The Fall' and 'Back to Sanity', and a contributor to 'Around the Outsider'