All talks are free and take place at Watkins bookshop, 19 Cecil Court, London WC2N 4EZ. You can catch up on all the recent Watkins talks by spiritual authors on our youtube channel.
March
Rajini Menon         12-Mar-2015 Thu 6.30pm "Face to Face with Reality"
Grace Puskas         19-Mar-2015 Thu 6.30pm "A Message from Source"
Jennifer Kavanagh    24-Mar-2015 Tue 6.00pm "A little book of Unknowing"
Tom Fortes Mayer     26-Mar-2015 Thu 6.30pm "The Freemind Experience"
April
Anna Parkinson        2-Apr-2015 Thu 6.30pm "Change Your Mind, Heal Your Body"
Sandrea Mosses        9-Apr-2015 Thu 6.30pm "Vanquishing Ghosts and Demons"
Linda Bender         23-Apr-2015 Thu 6.30pm "Animal Wisdom"
Nancy Canning        27-Apr-2015 Mon 6.00pm "Your Life's Calling"
Catherine Blackledge 30-Apr-2015 Thu 6.30pm "The Man Who Saw the Future"
May
Tori Hartman          5-May-2015 Tue 6.00pm "Chakra Wisdom Toolkit"
Nick Jankel           7-May-2015 Thu 6.30pm "Switch On"
Francis Bennett      14-May-2015 Thu 6.30pm "I Am That I Am"
Margaret Cahill      26-May-2015 Tue 6.00pm "Blogging as a Spiritual Journey"
John de Ruite        27-May-2015 Wed 6.00pm
Maggie La Tourelle   28-May-2015 Thu 6.30pm "The Gift of Alzheimer's"
MARCH 12, Thursday 6.30-7.30pm, Rajini Menon, Alan Jacobs – Face to Face with Reality
Rajini Menon's writings illustrate that she is undoubtedly a Jnani Guru. She has lived her life by listening to what she refers to as her 'Inner Divine' voice, which has unfailingly guided her on an evolutionary path towards the higher consciousness. Rajini has helped many people cross the hurdles faced in their spiritual search. Face to Face with Reality compiles the answers to questions put by spiritual aspirants to help them proceeding on their spiritual journey.
Alan Jacobs is a long standing Watkins Author, Writer and Poet and he is the President of the Ramana Maharshi Foundation UK.
MARCH 19, Thursday 6.30-7.30, Grace Puskas – A Message from Source
Grace Puskas is a poet and author of the book A Message From Source. She performs her poetry at community and literary events, festivals and schools. She is also a qualified Reiki Master, crystal healer and herbalist. A Message From Source is a collection of beautifully written, spiritual and inspiring poetry. Grace won the national Local Legend Spiritual Writing Competition.
MARCH 24, Tuesday 6.00-7.00pm, Jennifer Kavanagh – A little book of Unknowing
Jennifer Kavanagh worked in publishing for nearly thirty years, the last fourteen as an independent literary agent. Since becoming a Quaker in 1995, and selling her business a couple of years later, she has run a community centre in London's East End, worked with street homeless people and refugees, set up a microcredit programme in London, and worked as a research associate for the Prison Reform Trust. She currently sets up microcredit programmes in Africa and facilitates conflict resolution workshops for Alternatives to Violence (AVP), both in prison and in the community. Jennifer is also now engaged in her own writing. She has had six books of her own published, and has edited one, including her first novel, The Emancipation of B that will be published by Roundfire in February 2015.In her latest non-fiction book A Little Book of Unknowing Jennifer invites the reader to step back and let go habitual ways of thinking to leave space to the unknown. For more information visit her website: www.jenniferkavanagh.co.uk.
MARCH 26, Thursday 6.30-7.30pm, Tom Fortes Mayer – The Freemind Experience

Tom Fortes Mayer is a clinical hypnotherapist and creator of the FreeMind process – a self-hypnosis system that enables people
to do deep healing on themselves. He is also founder of the FreeMind Project Charity, an organization dedicated to bringing emotional intelligence, success psychology and unconditional happiness to as many people as possible. He has spent the last 13 years developing innovative therapeutic approaches for a variety of settings. His work has taken him into prisons to reduce re-offending, into corporations to increase effectiveness, into schools to increase engagement and even to Nigeria to combat corruption. He is a regular contributor on Radio 5 live, has contributed to television programmes, has spoken at conferences internationally, and is passionate about bringing self-managed healing work into the mainstream. He has also developed a pioneering new therapeutic model called ReParenting Constellations, which combines inner child therapy role play and nurturing touch. The principles and practices in The FreeMind Experience combine teachings from the world's ancient wisdom traditions with the most effective rapid-behavior-change techniques to bring about life-altering epiphanies and lasting change. For more information visit his website: www.freemindproject.org.
APRIL 2, Thursday 6.30-7.30pm,  Anna Parkinson – Change Your Mind, Heal Your Body

Anna Parkinson is a writer, healer and former BBC producer. Her first book, Nature's Alchemist, Frances Lincoln, 2007, was a
historical account of John Parkinson, an ancestor who was a pioneer English herbalist in the 17th Century. She is known for talks about plants as well as healing and she is currently developing a BBC radio series on traditional plant uses. She has a busy healing practice and has appeared on local radio phone-ins to talk about healing. Change your Mind, Heal Your Body relates the author's conventional life and outlook as a busy BBC journalist and mother. This life was dramatically interrupted when she was diagnosed with a brain tumour while in the process of writing her first book. Frustrations with medical system led her to gradually uncover the power of healing. Fascinated with this extraordinary 'parallel world' she shows how she developed her innate healing powers to the point where the MRI scan showed only tiny remnant of the tumour that had once almost destroyed her life. In the process she uses healing to change all aspects of her life and relationships, and to heal others. Anna's experience and the extensive knowledge of different schools of healing that she has acquired since her illness help her to show how everyone can develop their innate power to heal and learn to understand the language of their body.
APRIL 9, Thursday 6.30-7.30pm, Sandrea Mosses – Vanquishing Ghosts and Demons
Sandrea Mosses is a spiritualist medium, clairvoyant and author. She works in churches and centres in England, Wales and Spain. Sandrea also offers psychic readings to individuals, parties and at corporate events. Investigating reports of astral creatures which have entered our world through portals or invitation, Sandrea Mosses has encountered treacherous spirits, other-dimensional beings, and full-blown demonic infestations. Removing other-dimensional predators from people, places, and the land itself, Mosses proves that with the proper training and tools, dark entities can be beaten.
APRIL 23, Thursday 6.30-7.30pm, Linda Bender – Animal Wisdom
Linda Bender is an author, veterinarian and animal advocate. During the 14 years that she spent living in Europe, Asia, Africa,
and the Middle East, her veterinary work included the rescue, rehabilitation, and protection of wildlife. Her interest in spirituality and healing led her to found the Mind the Gap Wellness Center as well as a pet-therapy program. She is a certified practitioner of Energy for Life and is a cofounder of the nonprofit organization From the Heart. In Animal Wisdom, Linda offers a wealth of amazing stories and research-based evidence indicating animals have deeply perceptive—even extrasensory—abilities. She shows us that animals are extremely perceptive, intuitive, and psychic and provides step-by-step practices for honing your natural ability to communicate with them, so that you too can learn to understand their urgent messages about peace, happiness, and the future of the planet. Animal Wisdom is for animal lovers and anyone who seeks a deeper, more spiritual connection to these beautiful creatures.
APRIL 27, Monday 6.00-7.00pm, Nancy Canning – Your Life's Calling:getting unstuck and fulfilling your life lessons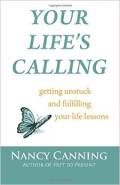 Nancy Canning is a certified hypno-therapist, teacher and trained clairvoyant who specializes in releasing limiting belief systems, past life regression and life-between-lives spiritual regression. Since 1980 she has helped thousands of people transform the quality of their lives. At some point in our life, we begin to ask the important questions: why am I feeling so stuck; how do I accomplish my goals; what are my life lessons; and how do I fulfill my soul purpose? Your Life's Calling:getting unstuck and fulfilling your life lessons enables readers to understand exactly how limiting beliefs formed, why you hang onto them, what you can do to release them, how to move forward and create the life you desire, and how to recognize and fulfill your life lessons and soul purpose.
APRIL 30, Thursday 6.30-7.30pm, Catherine Blackledge – The Man Who Saw the Future
Dr Catherine Blackledge Dr Catherine Blackledge is a writer whose career and interests span the worlds of science and the occult. The Man Who Saw the Future tells the true story of England's greatest ever astrologer William Lilly: how his celestial forecasts changed the course of the English Civil War, and the establishment's attempts to silence him. Catherine's first book, The Story of V, an internationally acclaimed cultural history of the vagina has been translated into ten languages. She has a science degree and PhD and has been a student of astrology for over a decade. Follow Catherine on twitter @cathblackledge

MAY 5, Tuesday 6.00-7.00pm, Tori Hartman – Chakra Wisdom Toolkit

Tori Hartman is a hugely popular professional intuitive and spiritual teacher. Following a near-death experience 25 years ago,
Tori was visited by angels who over more than five years revealed a collection of brightly coloured fables. The fables prompted her fascination with colour and its power to transform and heal lives, and they form the basis of her Chakra Wisdom Oracle Cards. Tori runs classes and seminars internationally to help people find their special gifts and purpose in life, and is the only intuitive ever interviewed by The New York Times and LA Business Journal for her work in business and conscious expansion. She is based in Los Angeles, California. The Chakra Wisdom Oracle Toolkit guides you in opening up your intuition, removing blockages from your life, improving your relationships and realizing your highest potential. Here is the full text of the fables that were revealed by angels to the popular intuitive Tori Hartman and then lost for two decades. Through short bursts of activity each day, the fables will seep into your life, giving you new perspectives and helping you to make the changes you truly want.
MAY 7, Thursday 6.30-7.30pm, Nick Jankel – Switch On
Nick Seneca Jankel is a psychological coach, social change champion, and world-renowned innovation and leadership expert.
He has a Triple First from Cambridge University in medicine and the  history and philosophy of science. He has advised governments, written for newspapers and  magazines, is a popular keynote speaker and has featured in a number of TV series (BBC &  MTV). He is also a lifelong raver and serial (social) entrepreneur, starting his first company, a creative agency, aged 25. Nick is the driving force behind the global wisdom and wellbeing community Ripe & Ready (www.ripeandready.com), with a mission to help the digital generations, and our world, to thrive. He is also the founder of WECREATE Worldwide (www.wecreateworldwide.com), a pioneering innovation and leadership consultancy that helps major organisations solve problems. And he is a leading proponent of Breakthrough Biodynamics , an unprecedented integration of major advances in human science, complexity, chaos theory and ancient wisdom. Switch On presents a compelling science-driven, wisdom-inspired answer to the most pressing question of the age: How do we as individuals, and our world as a whole, thrive? It is based on 20 years of research and experience at the forefront of personal, social and corporate change. The result is Breakthrough Biodynamics, a groundbreaking fusion of the latest neuroscience, evolution , ancient traditions, practical philosophy and powerful tools for making transformation happen. For more information about the author, go to www.nickjankel.com.
MAY 14, Thursday 6.30-7.30pm, Francis Bennett – I Am That I Am
Francis Bennett was an ordinary, sociable young man who answered the call to a life of spiritual adventure as a contemplative
in the monastery of the Order of Cistercians of the Strict Observance, commonly known as Trappists. Francis has worked with the sick and dying in parishes, hospitals and hospices, since he moved away from the monastic life. In 2010, while in the middle of mass, there came what Francis describes as, "a radical perceptual shift in consciousness", which made it clear that the pure awareness at the heart of all is no different from the presence of God, which he had been seeking outside himself for so long. I Am That I Am began life as a journal, written at the suggestion of Francis' spiritual director. It was intended to help Francis clarify and explore the shift in perception that had come upon him, not only for his own sake but for those who might seek his spiritual guidance in the future. This deceptively simple book brings a unique freshness and humanity to the meeting of Christianity with Eastern investigation of the nature of the self. Visit Francis' website: www.findinggraceatthecenter.com.
MAY 26, Tuesday 6.00-7.00pm, Margaret Cahill – Blogging as a Spiritual Journey
Not only is Under Cover of Darkness: How I Blogged My Way Through Mantle Cell Lymphoma an inspiring survival manual for cancer patients, but its humour and objectivity make it a choice read for anyone who enjoys real-life drama and pathos.
Some people prefer to keep quite about the inner turmoil and upset caused by a cancer diagnosis, but Margaret Cahill found it easier to think it all through in public through a blog. Galvanised by an incredibly supportive network of friends, family and colleagues she shared every moment of the highs and lows of intensive chemo and a stem cell transplant. The end result of it was a much longed for remission – and this book.
The author is also blessed with a big following from the Mind, Body, Spirit community of which she is a part; from this outpouring of expert support came advice on nutrition and alternative therapies which help to make this an invaluable source of information for cancer patients and their carers. Margaret Cahill is a publisher and founder of The Wessex Astrologer, a publisher, distributor and mail order company founded in 1996 and specialised only in Astrology and closely related areas.
MAY 27, Wednesday 6.00-7.00pm, John de Ruiter

John de Ruiter is a philosopher and teacher who inspires through his presence as much as his teaching. Essential to John's philosophy is the practice and embodiment of what you truly know in your heart. John's own embodiment of his deepest awakening inspires others to do the same. From the age of twelve, John's awareness was radically exposed to dimensions that John describes as 'greater reality.' John shows others that the entrance to these levels is within the knowing of the heart. John's meetings contain periods of silence, in which awareness can open with each word spoken, as well as dialogue. The quality of John's meetings is a deep calm, while people often describe expansive seeing, energy, and awakenings beyond what they had imagined. The keynote of John's teaching is 'knowing' and 'core-splitting honesty' which transcends the paradigms of our familiar selves. Yet, awakening and evolution begins in 'open and softness of heart', from which comes healing and the fulfillment of what it means to be alive.
MAY 28, Thursday 6.30-7.30pm, Maggie La Tourelle – The Gift of Alzheimer's
Maggie La Tourelle has worked in the field of holistic healthcare for 30 years as a practitioner, teacher and writer integrating psychotherapy, NLP, kinesiology, and
healing. She has written and contributed to a number of books and articles and has lectured at some of the UK's leading universities. Her book, Principles of Kinesiology, continues to be a worldwide classic. Maggie remains close to her Scottish roots and, having originally trained as an art teacher, enjoys doing art and design work. The Gift of Alzheimer's brings insight and understanding to Alzheimer's and sheds new light on this devastating disease. Maggie La Tourelle documents her evolving  relationship with her mother, who has Alzheimer's, interpreting her mother's words and giving a  moving account of their journey together.  It is a multidimensional story that demonstrates the healing power of love and how, by being open and seeking meaning, we can find wisdom in the midst of confusion, and freedom from suffering – and bliss – in other world dimensions. This book is a wonderful resource for both patients and carers affected by Alzheimer's and other dementias, offering new perceptions of the disease, practical care information and enabling wonderful heart and soul connections.